This autumn it is time to go short. And no we are not talking about the skirts at all! Leave aside the skirts or the hemline of the dresses, this autumn it is time to sport a short yet stunning hairstyle.
Yes, short looks are back again. And if you are one of those fashion conscious divas, it is high time that you visit your hairstylist and get yourself a short yet a sleek look.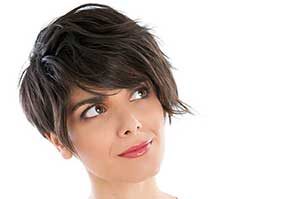 It is well established that changing the hairstyle is one of the greatest way to get an image makeover. Be it showing off a new wardrobe or highlighting your weight loss, getting a real short hairstyle will surely set it off by adding a new verve and vibrancy to your look.
Short show off hairstyles can give you a fresh modern look that will never go out of style, and at the same time, will also be more manageable, and a breeze to style. In show off short hairstyles, you have a lot to choose from. Be it the Alyssa Milano's cropped pixie cut or the new Winona Ryder bob hairstyle, you can really experiment a lot with your hair by cutting it real short.
The trend that is in this season is short hair with layered look. If you want to have that textured look in your hair, just add some hair gel or styling cream to damp the hair, and then blow dry while tousling your hair with your fingers. In fact, one of the best things about having short hair is the fact that it is easy to maintain. So if you are one of those jet setting corporate executives, who despite her hectic schedule is still fashion conscious and worried about her looks, then a short but sleek hairstyle is the best for you. You can also cut down your hair with razor, as it will allow your hair lots of movement and sleek styling options.
Over the years, any woman who has opted for short hair was always aware that a well-crafted short style made her look more stylish, as it allows for endless possibilities of experimenting with hair. Today, with a number of styling products available, you can try out any hairstyle that you wish, even if you have a short hair. Go for a funky stick straight look when out partying with friends or opt for a sleek gelled look when in a board meeting. If you want to add more spice to your attire, try out spiked hair paired with a formal business suit. Just make sure that you have the right poise and élan to carry the look.
The best aspect of short hairstyle is that it is wonderfully flexible. A short hairstyle is suited for any texture or type of hair ranging from thick to fine or curly to straight. Thus, short hairstyles are never mundane. This attribute coupled with low maintenance and convenience makes these wash-n-wear hairstyles so popular.
An all time favorite is the short pixie cut – which is a great idea for the ultra busy corporate woman who wants a look that's convenient, yet one that retains her girlish touch. Try out the short blunt bob if you have fine hair, as that adds volume to your hair and also manages to create a professional look. If, however, you have a round face, go for a curly bob as it helps in accentuating the cheekbones of your face, and hence makes you look better. Nonetheless, if such short hairstyles are not your cup of tea, the best look to go for this season is the textured bob that is the last word in chic, elegance and sophistication.
So if you are worried about an image makeover be adventurous. Chop of those dull tresses. Go for a short and sleek look. Be it Meg Ryan's varieties of short cuts to Victoria Beckham's new chic short hairstyle, you can surely find your style that will stun all.