You've seen the hair-do of your favorite celebrity: smooth, long hair that's been styled to perfection flowing elegantly down her shoulders. You've asked yourself, "how ever did she get such a divine hairstyle?" So you bury your nose deep in those fashion magazines and click away furiously at the 'net, trying to discover the secret to her long hair. And then you hit it: the flat iron hair straightener.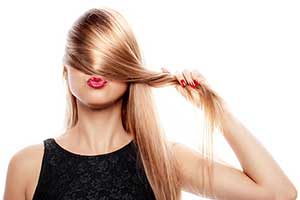 Eager to try the hairstyle for yourself, you've bought your very own flat iron. You claw your way through the package, and have plugged in the iron with dreams of elegantly smooth hair flowing down your shoulders… just like her. You press the flat iron hair straightener's hot plates on your hair, and voila!
Instant fried hair noodles. It looks like hell, and it smells like hell too.
Before this happens to you, know this: healthy hair is one of the most important factors of beautifully straight hear. You've got to take care of your hair even before you think of straightening it out.
Here's the low-down to avoid getting fried hair and other similar hair-straightening disasters:
Eat healthy – watch what you eat. This is the first thing you can do to make your hair healthy enough to manage while styling it flat. Hair that's thin and brittle will break under even the slightest pressure, and will look like a dying horse's tail when it's unhealthy. You don't want to showcase that kind of hair. Some food that's good for your hair includes salmon, green leafy vegetables and beans, to name a few.
Check your hair-products – make sure your creams, gels and sprays are all compatible with the type of hair you have. Thin, dry and naturally limp hair has totally different styling needs than thick, moist and curly hair. Mix up their hair-care products, and you're going to end up with some very embarrassing results.
Moisturize it – dried-out hair also has a higher chance to get damaged. Keep it moist with some handy leave-on conditioner after styling, and you're good to strut your stuff one the road without any worries of your falling off after ironing it.
Watch what you pull – avoid putting pressure on your hair to avoid breaking strands and making you look like a broom. That means avoid forcefully pulling while brushing, while ironing, or while drying with a towel.
Iron conservatively – once every other day is the max you can iron your hair with a flat iron hair straightener, and try not to make too many swipes with your iron over the same spots. Excessive ironing will damage your hair, and can result in the previously mentioned 'instant fried hair noodles."
Get a quality flat iron – for flat irons, you definitely don't want cheap. You need quality. One wrong swipe of a flat iron will mean that you're going to end up going to have to wear a hat until your hair grows back. Invest in quality flat irons: ones that have at least ceramic plates and adjustable temperatures. Also, check the brand. Some models will die out quick and do a dirty job, while more dependable and branded models, like the Karmin G3 Salon Pro line, will get the job done and last for years on end.
And there you have it. From eating the right food to choosing the right flat iron hair straightener properly, you can get that immaculately straight hairstyle without running the risk of damaging your precious hair. Healthy, straight hair will be your crowning glory!