Braid hairstyles are cute and sexy, and are fast becoming a popular trend for celebrities like Jessica Alba and non-celebrities as well. From side braids and classic French braids, there are many braid hairstyles that look awesome and are easy to do.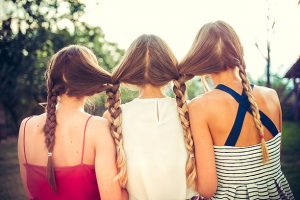 1. The two-strand twist. Unlike dreadlocks, the two-strand twist is easier, simpler and sleeker, and can be maintained for up to a few weeks. The trick to keep this style from looking dirty and matted is to remember that the smaller the twist, the longer it will last. Also, if you use hair products like pomade or cream, make sure you don't use any slippery, oil products, as this will make the hair look slick and dirty.
2. Box braids. This type of braid involves the use of hair extensions and is quite popular with the African American community, as well as many other women. It is also one of the most long-lasting of braid hairstyles, but it can also take a lot of time to do. If you don't already have a hair-stylist, find one near you that specializes in Box braids.
3. Braids for short hair. Providing you don't have extremely short hair like a pixie cut, you can do braids in your hair for a cute hairstyle. One of the most popular of short hair braids is the horizontal braid. This style features plating the hair from ear to ear, across your head, instead of down the back or side. Horizontal braids are flirty and fun and perfect if you have a chin-length bob.
4. Classic French braids. For medium and long hair, French braids are a classic and elegant hairstyle to try. It can be hard to do at first, but once you get the hang of it, you'll be plaiting your hair in no time.
5. Herringbone braid. This braid is ideal for long locks and is an elegant and beautiful style that can be worn for everyday use or for special occasions. It's a bit more complicated than the French braid, but is easily picked up by most women and can be done in just a few minutes once you get the hang of it.
6. Side braids. Perfect for both long and medium hair lengths, side braids are a fun way to mix up a braided look. You can even do side braids if you have layers, though it's easier if the layers are near the chin or long layers in the back.
7. English braids. This style starts at the nape of the neck and begins much like a French braid. Start at the nape, separate into three sections and begin plaiting.
8. Heidi braids. Heidi braids are made when two braids are crossed at the nape and brought around the head. These are fun and flirty, and more ideal for longer locks.
Bonus 1. Rope braids. These pleats are made by dividing your hair into two sections at the nape of the neck, then twist both sections clockwise (individually); once a few inches of hair is twisted, place the right section of hair over the left and twist in the opposite direction. It might seem complicated, but it's pretty easy and looks very different from traditional braids.